*POSTPONED * Theatre Workshop Day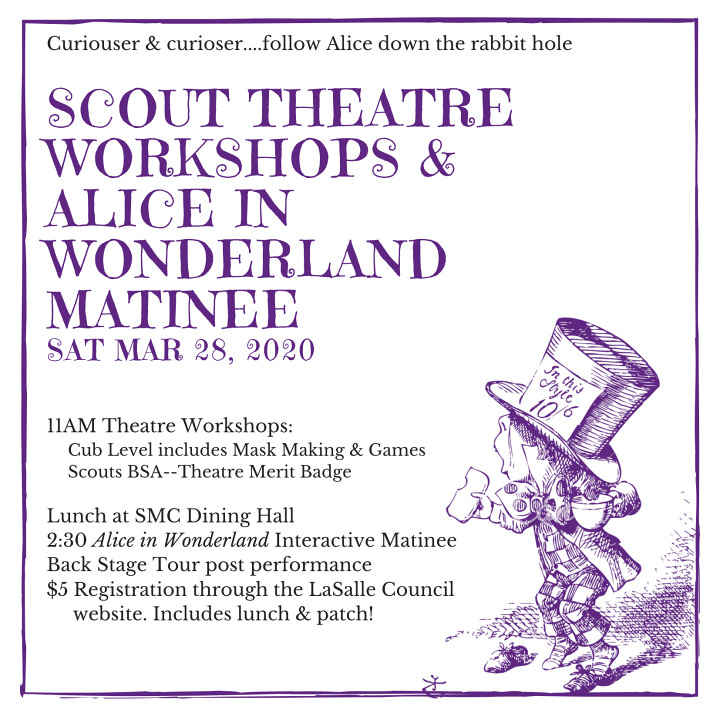 Date:
Mar 28, 2020
Location:
St. Mary's College
Moreau Center for the Arts
Notre Dame, IN 46556

THIS EVENT HAS BEEN POSTPONED. STAY TUNED FOR NEW DATE THIS FALL!
Come join us for a day of fun at the theater! There will be workshops throughout the day and it will give cub scouts the chance to earn either their Tiger Theatre Badge or their Howl at the Moon badge! Scouts will have the chance to earn the Theater Merit Badge. This event is for scouts of all ranks and ages. If the scouts join us for the day, they will have the opportunity to go to the Matinee for free. After the show, you will have a VIP tour backstage!
The cost is $5 and does include lunch and a patch.

Scouts BSA Pre-Reqs:

1. Read Alice in Wonderland (the Lewis Carroll novel--not requiring Through the Looking Glass)
2. Watch a film adaptation, such as Disney or Tim Burton's version
3. Come prepared to discuss
Questions:
Contact Michaela Duffy at (574)850-9280 or mduffy@saintmarys.edu
---
Register Below