DM Webelos Adventure Day 2020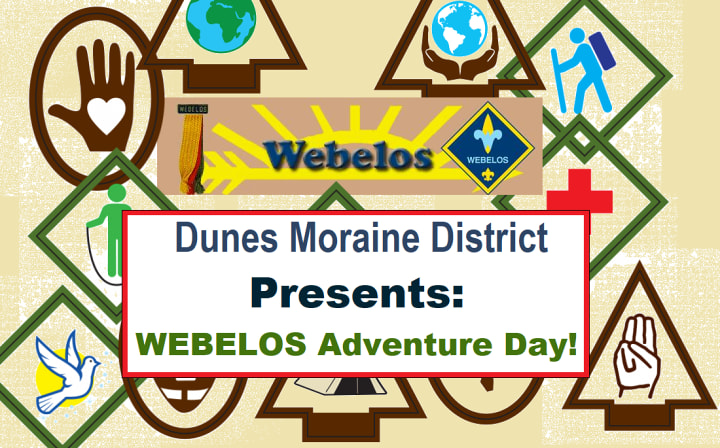 Webelos Adventure Weekend is the Dunes Moraine District's premier event for bringing together Webelos and Scouts in an outdoor setting to work together on Webelos Adventures with outdoor-based requirements. This event allows Webelos to meet and work with Scouts in their natural environment.
---
Schedule of Events:
Friday, September 25, 2020:
Webelos invited to camp with Scout Troops
Saturday, September 26, 2020:
Check-in and Late Registration: 8:00 AM
Opening: 8:45 AM
Sessions: 9:00 - 3:15 PM
Closing: 3:30 PM
Webelos/Scouts Challenge: 4:00-6:00 PM
Dinner at Troop Campsites: 6:00 PM
Campfire Program: 8:00 PM
Star Hike (weather permitting): 9:30 PM
Sunday, September 27, 2020
Scouts Own Service: 8:00 AM
All units depart camp before Noon
---
Cost:
Registration Fee $10.00 per Webelos
No cost for adults
---
Adventure Tracks:
Select an Adventure Track from the tracks available using the online registration process at the LaSalle Council website.
All Webelos in a Den will follow the same schedule and work on the same Adventures
Webelos leaders or their designees (a minimum of one adult leader per den) are required to accompany and to supervise their dens for the entire day.
The Webelos will be able to complete selected Adventure requirements. Additional work will be required by the Den at future den meetings to finish the Adventure. All Webelos participating will receive a checklist of the Adventure requirements completed during this Adventure Day
---
Webelos Camping with Boy Scout Troops:
Please see the leader guide below for Boy Scout Troops that will be camping at the event and contact information for each unit's leadership.
---
Click below to register today!
| File Name | Description | |
| --- | --- | --- |
| 2020 Leader Guide | | Download |