Wood Lake Scout Reservation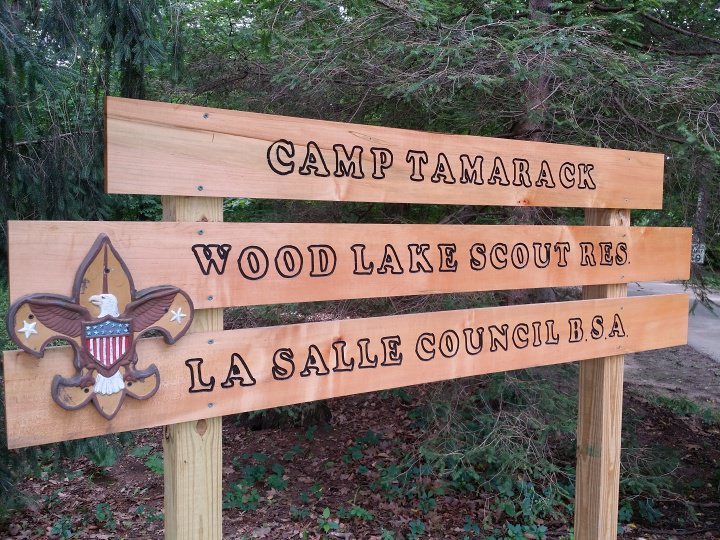 10891 Withers St, Jones, MI 49061
Camp Phone: (269) 435-7533
Camp Tamarack is approximately 250 acres and is the summer camp facility located on the north side of Big and Little Wood Lake. Tamarack has 14 campsites, 3 winter lodges, 16 staff cabins, main shower house, health lodge, Directors lodge, dining hall, cooks cabin, quarter master/trading post, administration building, conservation pavilion, rifle range, archery range, waterfront, athletic field and parade field. The water supply is winterized (no water in campsites) by October 15th and recharged by May 1st. Winter water is available at two(2) frost-proof hydrants located outside the Blair and O.A. winter lodges.

Camp Will Welber is approximately 10 acres and is used as a training area. This camp is located on the south side of Big Wood Lake. Facilities are comprised of a storage building, central shower and two(2) staff cabins. This area is used by summer camp staff during summer months. No water is available during winter months.

Camp Dan Beard and Jim Bridger are located on the south side of Big Wood Lake and are approximately 80 acres each. The only amenities that they offer are the abundant natural beauty.
| File Name | Description | |
| --- | --- | --- |
| Camp Tamarack Rules | Camp Tamarack Rules | Download |
| DQM Application 2021 | Deer Hunt Application | Download |
| Good Turn Project List | | Download |
| Refund Policy 2018 | | Download |
| Tamarack Needs List | | Download |
| Tri-Camp Patch Order Form | Order Form - Submit to LaSalle Council Scout Shop | Download |
| Position | Name | Telephone | |
| --- | --- | --- | --- |
| W.L.S.R. Camp Ranger | Steve Whorwell | (269) 435-7533 | Email |