Southwest Michigan Good Scout- Pam Klyn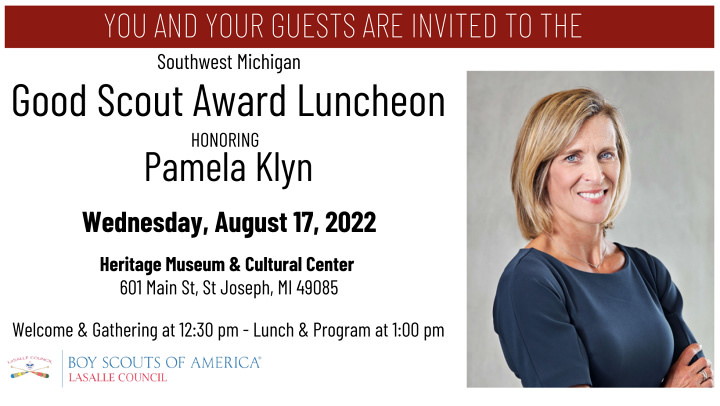 Date/Time:
Aug 17, 2022 12:30 pm to 2:00 pm
Location:
Heritage Museum & Cultural Center
601 Main Street
St. Joseph, MI 49085

The La Salle Council Good Scout program recognizes an outstanding adult member of the community for their work that is consistent with the values of Scouting. This year's 2022 Southwest Michigan Good Scout Award Recipient and luncheon honoree is Whirlpool Corporation Senior Vice President, Corporate Relations and Sustainability, Pam Klyn.
The Good Scout Award luncheon serves as an important fundraiser that provides financial support for the programs and camps that serve over 2000 young men and women and their families and provides them with opportunities to spend time outdoors, learn to care for the environment, and be respectful, helpful and trustworthy adults.