South Bend Cubs - Boy Scout Night 2018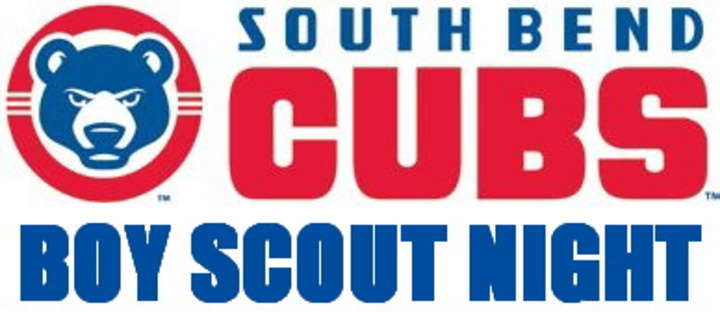 Date/Time:
Jul 13, 2018 5:30 pm to Jul 14, 2018 10:00 am
Location:
Pioneer Trails District
1 See Your District Professional
Elkhart, IN 46514

South Bend Cubs - Boy Scout Night!
Take your Scouts out to the ball game!
The South Bend Cubs are sponsoring an overnight adventure at Four Winds Field in downtown South Bend!
(501 W South St, South Bend, IN 46601)
The overnight package is $19 and includes:
Tickets to the Game
Free Game Programs
Pre-Game Color Guard Presentation
Pre-Game Scout Parade on the Field
Post-Game Fireworks Display
Post-Game Movie on the Video Board
Snack during the Movie
Camp Out on the Field Overnight
Breakfast in the Morning
Newly-Designed Scout Night Patch
All family members are welcome!
Game Time: 7:35 pm & Gates Open: 5:30 pm
vs. the Beloit Snappers
Ticket orders for overnight campers are due by Friday, June 29th. The South Bend Cubs
suggest that you return your ticket orders as soon as possible in order to reserve seats
and ensure your overnight reservations. We also strongly recommend that packs return
orders as a group to ensure that they will be seated next to each other on game day.
If registering as a pack please include only one payment per pack
and please list individual scout names on back of form (with # of tickets)
Detach form and return registration and payment to:
Boy Scout Night
c/o South Bend Cubs
P.O. Box 4218
South Bend, IN 46634
Please contact Mitch McKamey at 574-235-9988 x235 to reserve your spot today!