Join Scouting Night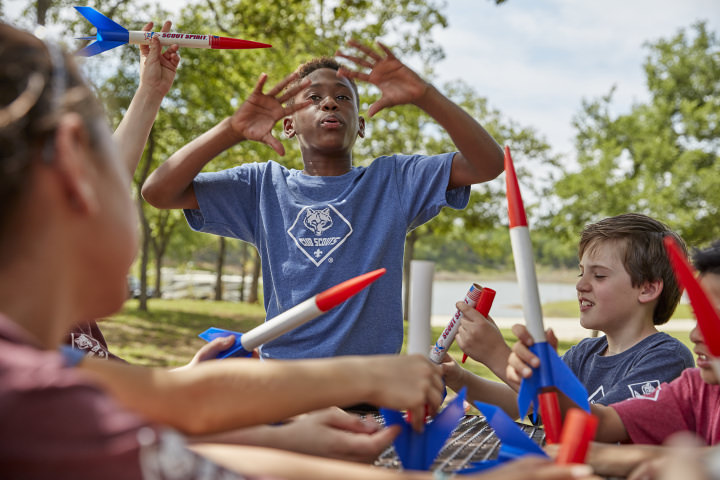 Rocket into Scouting – 2022 Edition
There are tons of youth and families, Scouts and non-Scouts who are eager to find SAFE, FUN, and WORTHWHILE programs for the whole family to enjoy. It is the goal of the LaSalle Council to provide Scouting opportunities to any interested youth and his or her family. This year, to get the year kicked off right, we have prepared exclusive events and materials for this Spring. Every Scout recruited from March 15 until June 15 will receive a rocket and will be invited to participate in a local rocket launch event!
Information for Units
How can my unit participate?
Commit to using the Rocket into Scouting program this Spring, by completing this form online.
Why 'Rocket into Scouting'?
Rocket into Scouting is a program that has been proven in our council to encourage Scouts to join a local unit through the added incentive of a rocket and a launch event.
Boys and girls that join in the Spring get the benefit of the Summer Scouting experience. Also, with advancement changes, they have more time to complete rank requirements.
Scouts and their families get to attend an exciting outdoor experience within their 1st month as a Cub Scout.
This type of recruitment also increases the unit's ability to recruit new leaders right away.
How Does it Work?
Step 1: Set up a Spring Recruitment Night for April, May or June
Step 2: Conduct a Spring Recruitment Night in April, May or June
Step 3: Distribute Rockets to Scouts
Step 4: Distribute Rocket Launch information
Step 5: Follow up with anyone that didn't commit
Step 6: Have a Great Summer!
Support Materials
2021 LaSalle Council Rocket into Scouting Unit Guide
Recruitment Night Checklist
Recruitment Night Script and Instructions
New Member Coordinator Job Description
Using Facebook and Social Media to Promote Your Recruiting Night
Updating Your BeAScout Pin to Accept Online Applications
Rocket Launch Day Location – June 19th, 2021 @ Camp Tamarack