Cub Day Camp - Mishawaka Res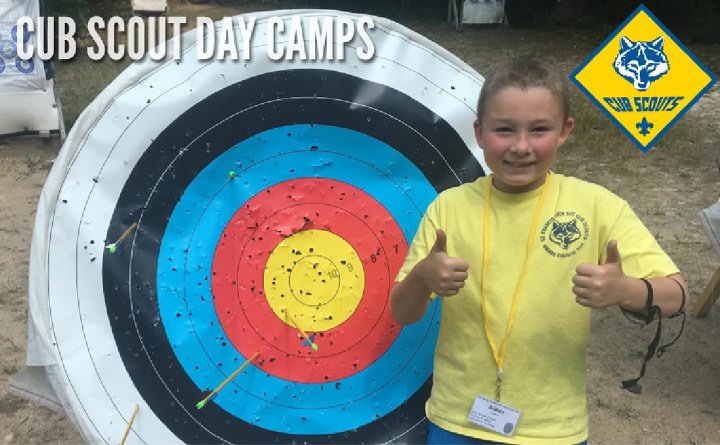 Twilight Astronaut Camp
Tuesday - Friday Schedule
5:15 - 5:30 Check-In
5:30 - 6:15 Session 1
6:20 - 7:05 Session 2
7:10 - 7:55 Session 3
8:00 - 8:15 Pickup
Activities:
Archery, Wood Working, Flags Building, Craft Picture Frames, Skit and Song Den time, Leatherwork, Space Crafts, Nature Walk, Conservation Time, Astronaut Training, Helmet Building, Rocket Launches, Fire Bowl Skits and Song Presentation
Parent Participation:
Parents are encouraged to attend this twilight camp with their Scouts. An adult will be required to stay for Dragons, Lions, and Tiger Scouts. If you plan to stay, please indicate this on the sign-up sheet. We would love to have parents to help the Scouts stay on task and walk from station to station.
Parking:
There are parking spots available at the res parking lot for those planning to stay for the camp. Additional parking spaces along the side of the road leading into the park. If you will not be staying with your Scouts and dropping off - please pull into the parking lot and drop off your Scout at the entrance to the park - you will then go around the turnaround and exit the same way you entered. We want to remind everyone with so many Scouts around - to please use caution as you arrive and leave.
Health Forms:
Health forms are required for attendance at the camp - please do your best to fill these out in advance of arrival. If you are unable to do so you will be required to complete the forms before you Scout can begin the camp.
Location:
The Mishawaka Res 13950 Scout Ln, Mishawaka, IN 46544
Mishawaka Res- Cub Day Camp May 30, 2023 to June 02